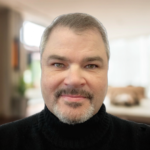 I have been selling products and services for over 30 years. During that time I have read countless sales books, listened to numerous sales tapes, attended countless sales seminars and workshops and have been exposed to all sorts of sales methodologies. After all of this education and experience, I came to the realization that most of what I have learned really falls short in understanding sales interactions from the customer's point of view. Therefore, you could say that this site is my Jerry Maguire memo both to stand-up for the customer, and to espouse my philosophy related to delivering excellence in sales service.
I have two primary goals for creating this site: 1. Let prospective customers whom I have not had the good fortune of working with getting to know me and what I'm about and 2. Create a community where I can help people connect, and create a forum to share insights and ideas across different industries.
My Sales Philosophy
Always be fair and honest
Be Real – People buy from People
Be Responsive – Expectations are high everywhere.
Listen, Understand, Act – Two ears, one mouth, the ears have it
Help customers obtain the value and benefits from the products and services you were entrusted to deliver.
If a customer has a problem with a product or service I represent, I feel that it's my job to help them fix it.
Provide exceptional service after a sale; repeat and extended business is the reward for doing a good job.